Well said. I've had enough of people waving a banner just to get attention, being paid just to be part of some sick propaganda. Of people parading themselves behind something they don't even begin to understand. This ignorance has to stop.
CNN Belief Blog
Opinion by Arsalan Iftikhar, special to CNN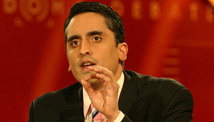 (CNN) — Hey Boko Haram, have you read the Quran lately?
Most of the 1.6 billion Muslims in the world have, and we're utterly certain that it condemns kidnapping young girls and selling them into slavery — no matter what you say "Allah" tells you.
According to Amnesty International, several hundred schoolgirls — both Christian and Muslim — between the ages of 16 and 18 were abducted at gunpoint on April 14 from their rooms at the Government Girls Secondary School in Chibok, Nigeria, where they had been sleeping.
The armed extremist group Boko Haram, which roughly translates to "Western Education is Sin," claimed responsibility for these mass kidnappings and threatened to sell these young girls for as little as $12 into sex slavery or forced "marriages" to members of their group.
"I abducted your girls. I will sell them in the…
View original post 378 more words